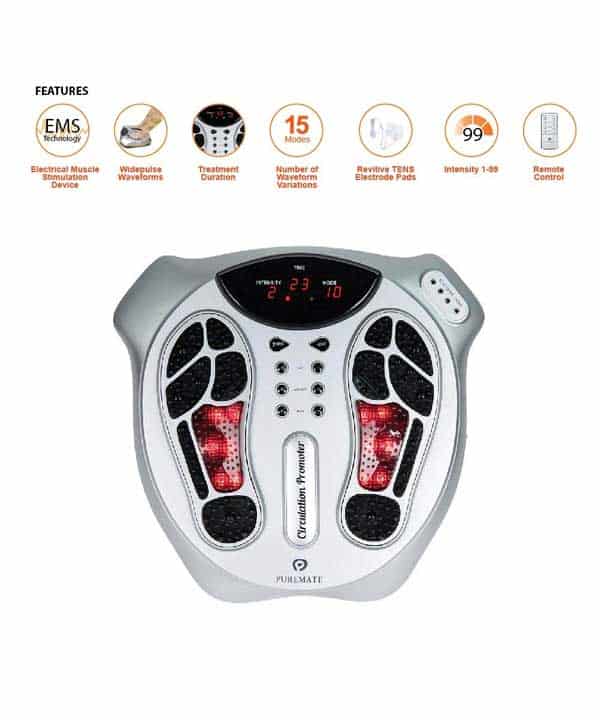 PureMate Foot Circulation Massager help Improves Blood Circulation and Relieves Aches and Pains
We are a manufacturing leader in innovative air and kitchen quality products, offering new technology and high performance, environmentally-friendly solutions that satisfy all the indoor air needs of UK & Europe homes and families. PureMate's wide range of Massagers are designed to bring you the relaxation of a Spa in the comfort of your own home.
PureMate PM605 Foot Circulation Massager  is a most popular product. This product comes with 15 program settings and 99 intensity levels. If you are experiencing poor circulation in your legs, PM605 massager will help to improve circulation and alleviate aches and pains, warm the feet, and increase oxygenated blood in the lower legs. This massage machine is built with TENS technology.  Puremate foot massager is clinically proven safe to use every day. It has a remote control to operate the device without bowing head. Set a 30 minutes auto session while watching Tv or reading a book. We're sure you'll feel relaxed. 
PureMate PM880 Shiatsu Kneading Rolling Foot Ankle & Calf Massager with Heating and Vibration is another quality product from Puremate.  This multifunctional massager features a shiatsu and kneading massage, rolling, vibration and heating function. With 8 massage discs on foot and 4 discs on the calf, it can provide 360 degree all cover massage. The massager can also make your leg beautiful if using it often.
Ergonomically design targets the sensitive points of calf region and soles of feet, the reflecting characters of the complicated nerve system. Infrared physical therapy that can improve metabolism and blood circulation.
Automatic massage program provides kneading, rolling, vibration & massaging combinations to give reflexology therapies to different human's organs. Pressure nodes located under the soles of your feet stimulate the vital reflexology pressure points. Improves blood circulation.
For custom working options, foot massage and calf massage can work independently. You can choose either one or both of them. 3 modes of foot massage, 3 intensity of calf massage and 3 level of heat can be chosen.
Operates it by handy touch-panel control on the unit or a remote control. Available in a Velour, New MicroSuede Fabric. The detachable fabric foot covers for easy cleaning.
The PureMate PM 880 Foot, Leg & Calf Massager is an extraordinary and ergonomically-designed machine that activates joints to maximise relaxation and release tension through the complicated network of nerves in your feet.
The Shiatsu Kneading, vibration and Rolling Foot Massager perfectly mimics the practiced strong hands of a master of ancient Asian massage and reflexology therapies. Developed in cooperation with the medical community, this foot Massager delivers a completely new level of massage functionality, emulating the techniques used by chiropractors and massage therapists.
It simultaneously provides an invigorating massage to feet, ankles, and Calves. Its strong kneading action penetrates deeply into the muscles and helps relieve tension and improve circulation. Pressure nodes located under the soles of your feet stimulate the vital reflexology pressure points.
Important links:
https://puremate.co.uk/product/puremate-pm680-vibration-foot-massager-with-heat-and-feet-leg-circulation/
https://puremate.co.uk/product/puremate-pm620-foot-circulation-massager-with-heat-may-help-improves-blood-circulation-and-relieves-aches-and-pains/
Media Contact
Company Name: PureMate
Contact Person: James Allen
Email: Send Email
Phone: 0800 612 8027
Country: United Kingdom
Website: https://puremate.co.uk