The DAPP ETF: Digital Assets as an Alternative to Cryptocurrency?
May 10, 2021 at 16:04 PM EDT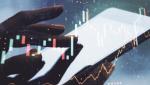 Strong performances from top cryptocurrencies like Bitcoin and Ethereum are spilling over into companies that focus on digital assets, which should help funds like the VanEck Vectors Digital Transformation ETF (DAPP). DAPP seeks to track the price and yield performance of the MVIS Global Digital...