Is It Time to Tail Sam Zell's Bet on Gold?
May 07, 2021 at 10:21 AM EDT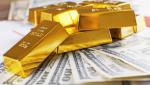 A pair of gold miner ETFs from Direxion might be the way to tail legendary investor Sam Zell's bet on gold, given current inflationary pressures. As the U.S. economy starts to re-open amid the Covid-19 vaccine deployment, the cost for goods and services could be on the rise. This, in turn,...