More Upside Ahead for Gold Regardless of Election?
October 14, 2020 at 13:08 PM EDT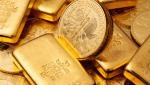 When it comes to precious metals like gold, will another four years of current U.S. president Donald Trump be what prices need to continue higher or will a new administration headed by Democratic hopeful Joe Biden be what it needs? According to a recent article by Forbes contributor Frank Holmes,...