Trillion Energy International Inc. (CSE: TCF) (OTC: TRLEF) (Frankfurt: Z62) is a company in the right place at the right time as it is poised to bring on desperately needed natural gas production within weeks to the European market.
With energy prices going parabolic, gas supplies cut off and the Ukraine War drags on with no end in sight, Europe is facing a long cold winter and a decade of sky-high energy pricing. Russia has indefinitely shuttered the Nord Stream Pipeline, thereby cutting off much of Europe's natural gas supply, in retaliation for Western sanctions. The pipeline won't flow again until the sanctions are removed, according to Russian sources.
European natural gas and power prices are near record high levels. Electric prices in Germany and around the continent are now exceeding $1000 per megawatt, far exceeding the US's average of $154! Staggering increases are negatively impacting businesses and consumers. Many have no choice but to go without. After seeing geometric electric price increases, many businesses, such as the UK Pub industry, may soon be history.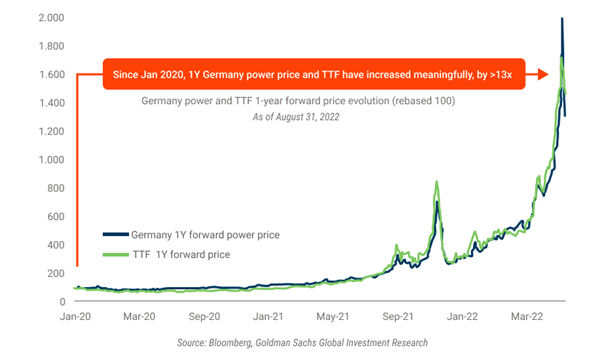 In Italy, average household power bills have increased to €500 per month from €160 in 2021 with estimates of increases to €600, based on Russian shut down of the Nord Stream pipeline.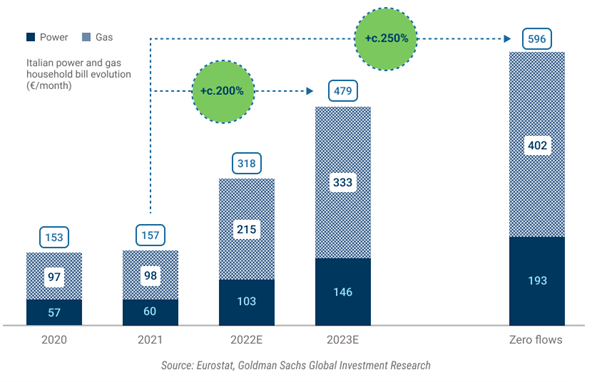 For Europe as a whole, based on the Forward TTL power prices as represented in the below chart, energy bills could hit 15% of GDP or €2 TRILLION. In a nightmare scenario, energy costs could hit 20% of GDP, according to research by Goldman Sachs, as illustrated below: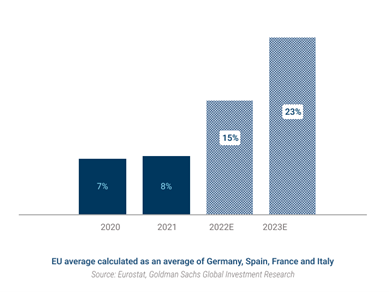 Numerous European electric power suppliers are insolvent due to the soaring price of natural gas. The government bailouts are just getting started; rolling blackouts, "gas-outs," and industrial shutdowns are in the cards. Fears of impending energy shortages have led Europeans to start hoarding coal and firewood. Heat your home above 18 degrees Celsius and risk going to jail for up to three years. Possible energy rationing and exploding electric prices have ignited a desperate search for new natural gas supplies to keep Europe from freezing this winter. The impact of natural gas shortages has been cataclysmic so far, and with winter looming, the worst could be yet to come.
When will the crisis end and gas and power prices return to normal? According to Citigroup Inc, Europe will have to wait until later this decade before seeing any meaningful relief.
While many bemoan this sad, self-inflicted state of affairs, Trillion Energy (TRLEF; TCF.CN) is doing something about it, having planned a massive natural gas development in the Black Sea offshore Turkiye -prior to the Ukraine War even starting, a project 10+ years in the making.
Trillion's shares are trading in the $0.32 range, up 233% year-to-date. A recently released research report prepared by Research Capital Corp's analyst Bill Newman, CFA suggests the stock is undervalued and calls for a share price target of $1.02 (C$1.35), based on a 3.0 x multiple of 2024F debt-adjusted cash flow. The Canadian Securities Exchange also recently recognized Trillion's stellar performance adding it to the CSE25 Index.
With the arrival of the Uranus Drilling Rig from Romania this week, a massive natural gas field in the Southwestern Black Sea of Turkiye will start gas production imminently. Trillion Energy has been racing to commence gas production having committed $100 million plus to a multi-year offshore natural gas drilling program.

Image: Marine ship pulling Uranus Rig to SASB Gas Field, September 2022
The production program utilizes a $600m+ historical investment into the initial development and infrastructure of the field, including 12 miles of offshore pipelines tied to an onshore natural gas processing facility, which is currently rated at 75MMcf per day but is readily expandable to 150MMcf. Prior to the current development phase, the SASB gas field produced 42+ billion cubic feet of gas, which at today's $30 pricing would be worth $1.26 billion. These figures could easily be eclipsed by the current drilling efforts scheduled for completion in 2024.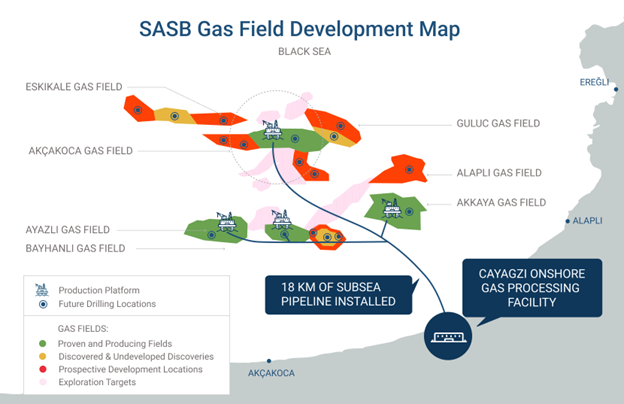 Figure 1: Map of the SASB gas field development, Black Sea
CEO Arthur Halleran (Ph.D.), a four-decade industry veteran, believes that every cubic foot of natural gas counts – now more than ever – and he has been working non-stop to bring the SASB project online for several years. The SASB project will produce desperately needed natural gas supplies -just in time for the cold winter.
With the Uranus Drilling Rig, Trillion Energy plans to drill 17 new production wells at the rate of one every 45 to 48 days. The accumulative investment in SASB potentially makes it the largest natural gas development in the Black Sea, where total development costs may reach $1 billion.
While Halleran was busy raising funds to finance the new development earlier on this year, energy prices rose exponentially.  By September of this year, gas prices had risen exponentially to $30+ per mcf. The SASB gas field economics were appealing at $6-7 per mcf gas when the project was conceived, but now are truly overwhelming.  
As a result of the Company's efforts, perhaps more than any other emerging energy producer, Trillion Energy is poised to profit from the once in a lifetime, massive parabolic lift in European energy costs. According to a recent statement by Trillion's CEO Art Halleran:
"We believe the recent price increases will significantly enhance the economic performance of … program set to commence … at the SASB gas field. With seven wells producing, we will supply the region with much-needed natural gas in a time of acute shortages and high prices".
What makes the Company even more intriguing is its exploration upside. Trillion's CEO stated that "SASB has the same Maykop source rock as found at the recently discovered 19 Tcf Sakarya Gas Field. This source rock is widespread and also occurs onshore Turkiye and in South Caspian Sea area."  The Sakarya Gas field is one of the largest natural gas finds in the European region in more than 30 years and SASB is 100 miles south of Sakarya.
Trillion has 20 years of experience in this region and possesses a wealth of historic seismic data, upon which it announced plans earlier this year to conduct further exploration for new gas discoveries. 
Trillion's unique position as a natural gas producer in Europe at the right time with an aggressive development plan unfolding makes it poised to become a leader in new natural gas supply, as well as a near-term cash cow beyond what its modest $140m market capitalization would predict.
Small wonder that renowned oil and gas analyst Bill Newman, CFA is calling for a significant rise in Trillion's share price to C$1.35 and the Company has been recently welcomed to the CSE25 index of top performers.
Please see full article here: https://ibn.fm/chpLo
About InvestorWire
InvestorWire is the wire service that gives you more. From regional releases to global announcements presented in multiple languages, we offer the wire-grade dissemination products you'll need to ensure that your next press release grabs the attention of your target audience and doesn't let go. While our competitors look to nickel and dime you with hidden fees and restrictive word limits, InvestorWire keeps things transparent. We offer UNLIMITED Words on all domestic releases. While other wire services may provide a basic review of your release, InvestorWire helps you put your best foot forward with complimentary Press Release Enhancement.
With our competitors, the work is done the second your release crosses the wire. Not with InvestorWire. We include follow-up coverage of every release by leveraging the ever-expanding audiences of the 50+ brands that make up the InvestorBrandNetwork.
Get more out of your next press release with InvestorWire. It's unlike anything you've seen before.
For more information, please visit https://www.InvestorWire.com
Third-Party Content
This article contains Third-Party Content submitted by a third party author submitted through the IBN Premium Partnership Program. All opinions, statements and representations expressed by such third parties are theirs alone and do not express or represent the views and opinions of IBN or its affiliates and owners. Content created by third parties is the sole responsibility of such third parties, and IBN does not endorse, guarantee, or make representations concerning the accuracy and completeness of any third-party content. You acknowledge that by IBN providing you with this internet portal that makes accessible to you the ability to view third party content through the IBN site, IBN does not undertake any obligation to you as a reader of such content or assume any liability relating to such third-party content. IBN expressly disclaims liability relating to such third-party content. IBN and its members, affiliates, successors, assigns, officers, directors, and partners assume no responsibility or liability that may arise from the third-party content, including, but not limited to, responsibility or liability for claims for defamation, libel, slander, infringement, invasion of privacy and publicity rights, fraud, or misrepresentation, or an private right of action under the federal securities laws of the United States or common law. Notwithstanding the foregoing, IBN reserves the right to remove third-party content at any time in its sole discretion.
By viewing this third-party content, you acknowledge that you have viewed, read fully, accepted and agreed to all terms of the Disclaimer at https://IBN.fm/Disclaimer
Please see full terms of use and disclaimers on the InvestorBrandNetwork website applicable to all content provided by IBN, wherever published or re-published: http://ibn.fm/Disclaimer
InvestorWire (IW)
8033 Sunset Blvd Suite 1037-IW
Los Angeles, CA 90046
310.299.1717 Office
www.InvestorWire.com
Editor@InvestorWire.com
InvestorWire is part of the InvestorBrandNetwork