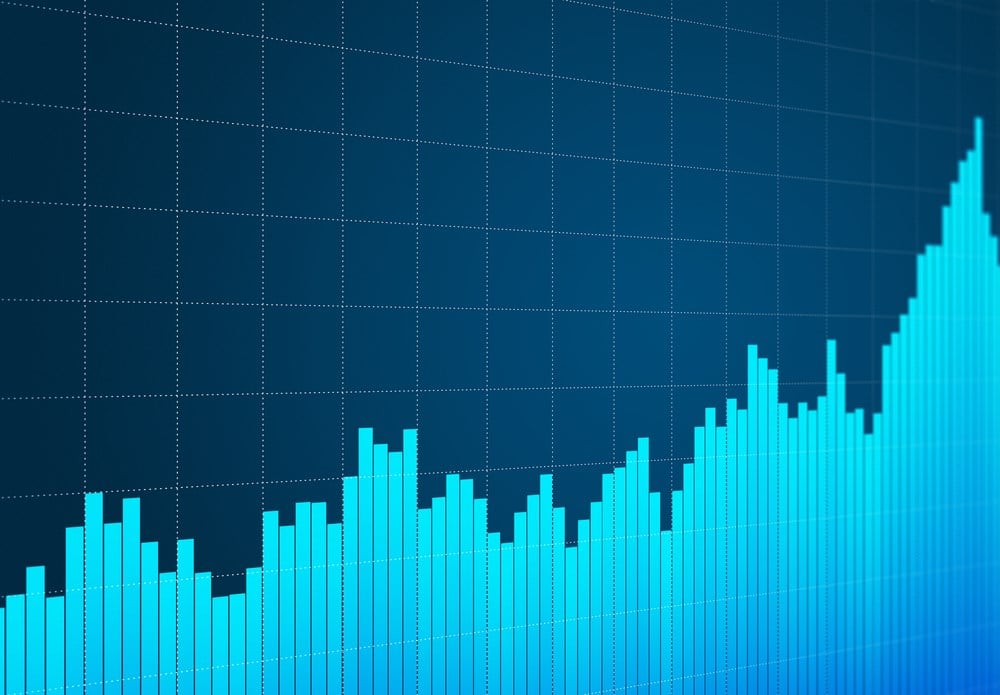 It's highly unlikely you've heard of Applied Optoelectronics Inc. (NASDAQ: AAOI) until maybe recently, as shares soared more than 300% on its new supply agreement with Microsoft Co. (NASDAQ: MSFT). The company is a vertically integrated optical networking product and laser manufacturer for datacenter, cable broadband and telecom customers.
Incidentally, the company didn't have a press release announcing the deal, as it was quietly disclosed in an 8-K filing on June 22, 2023.  
There were no financial details. Applied shares sold off nearly 30% after the news for the next two days. Strangely, shares started to recover and build momentum for the next 15 trading days reaching a high of $11.48 on July 13, 2023. The stock has a small float of 27.5 million shares and a 19.5% short interest which fueled a short squeeze.  
Was Microsoft Deal Really the Driver?
Investors credit the Microsoft contract for the 300% rise after the "news." However, could there be something else driving shares higher? The company didn't put out a press release or announce the deal, and no financial terms were disclosed in the 8-K. Incidentally, Microsoft had already been a customer for Applied as it inked a three-year manufacturing agreement for certain lasers to be manufactured under Microsoft's specifications on December 16, 2022, good through December 30, 2025.
In fact, Microsoft had already been a customer as far back as 2017, along with Amazon.com Inc. (NASDAQ: AMZN) and Meta Platforms Inc. (NASDAQ: META) Facebook supplying products for their data centers. Back then, Amazon accounted for more than 50% of Applied revenues in 2017 before they got dumped by Amazon.
Lasers and Datacenters
Was the new contract a revision of the previous contract extended for five years? As for the products, Microsoft could be ordering lasers for its data centers. Diode lasers are the key component of optical fiber, enabling large amounts of data to travel long distances instantaneously.
Data centers are prime customers for lasers and components, using them for data storage and processing. Could the new contract be an upgrade due to the overwhelming data traffic generated by its partnership with ChatGPT developer Open.ai? Could artificial intelligence mania be driving the need for more lasers to be manufactured?
Selling the Chinese Transceiver Facilities
On Sept. 22, 2022, Applied Optical announced it had entered an agreement to sell its Chinese manufacturing facilities and assets related to its transceiver business to Yuhen Optoelectronics Technology for $150 million. The deal is subject to regulatory approvals and is expected to be completed in the second half of 2023.
Applied's founder Dr. Thompson Li commented,  "After careful consideration, we concluded that it is in the best interest of the company and our shareholders for AOI to exit the transceiver market and focus our resources on our CATV business and manufacturing lasers and laser components for the data center, CATV, telecom, and FTTH markets.
Further, we believe that this transaction opens up new opportunities for customer expansion with our existing data center laser business, which has a large addressable market." Most funds will be reinvested in its CATV business and new laser-related products.
Applied Optoelectronics analyst ratings and price targets are at MarketBeat.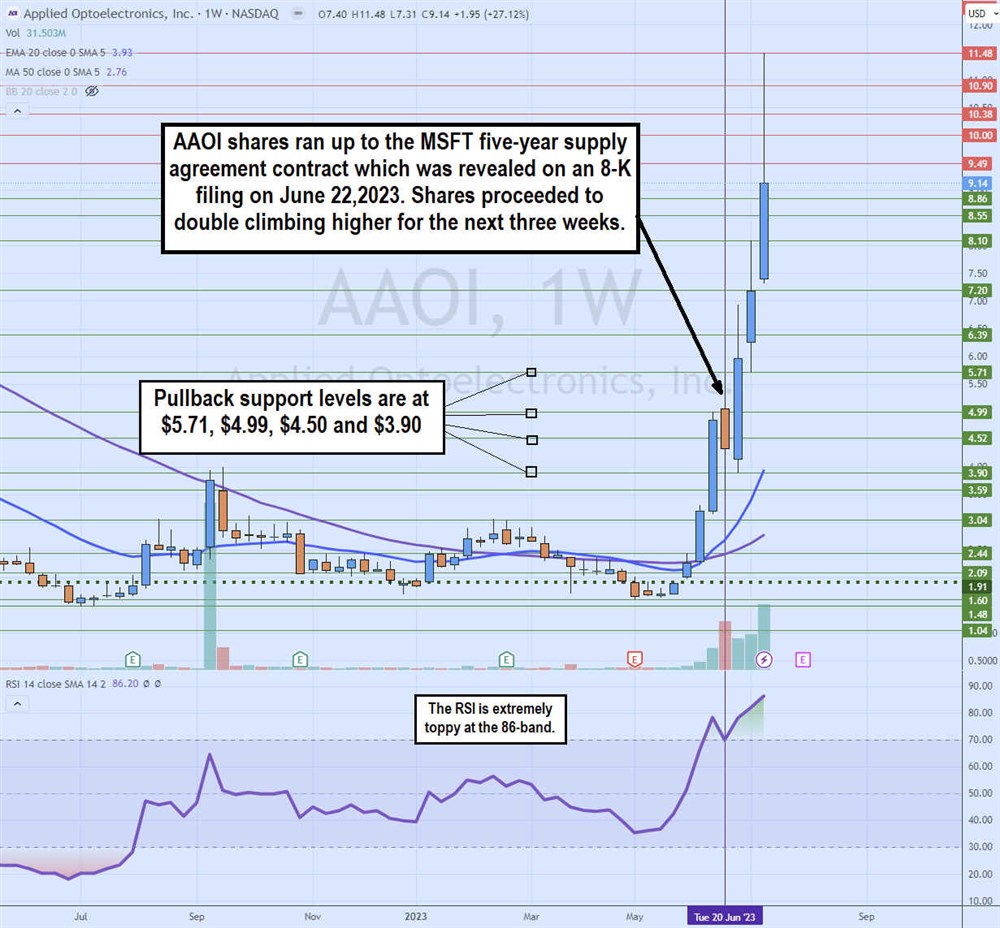 Weekly Breakout Short-Squeeze
The weekly candlestick chart on AAOI illustrates the trading range between $1.60 and $3.90 since September 2022. AAOI broke out on huge volume up to $5.67 heading into the Microsoft deal disclosure. This caused a sell-the-news initial reaction, but buying resumed the following three weeks sending shares up to $11.48 by mid-July 2023.
Much of the run-up has to be credited to a short squeeze with a 19.77% short interest on a 27.5 million share float. The weekly relative strength index (RSI) momentum oscillation surged from the 35-band up to the 86-band in extremely overbought territory as shares had a 14% reversion from their peak.
The weekly 20-period exponential moving average (EMA) rises at $3.93, followed by the 50-period MA at $2.76. Pullback support levels are at $5.71, $4.99, $4.50 and $3.90.