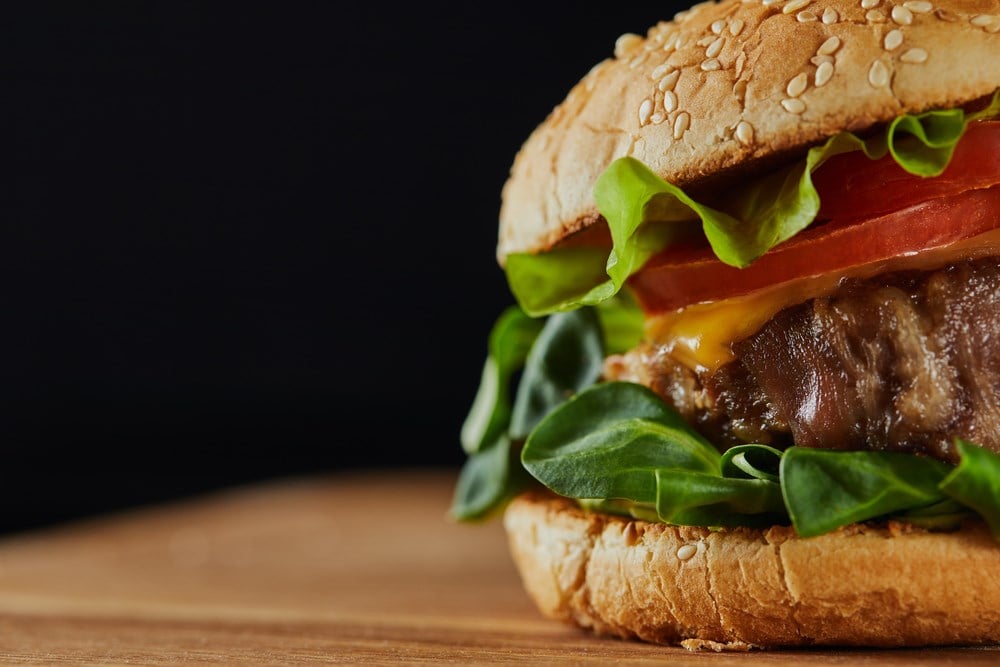 Upscale fast-casual burger restaurant chain BurgerFi International Inc. (NASDAQ: BFI) shares have been staging an impressive rally rising 39% year-to-date (YTD). BurgerFi restaurants are committed to using antibiotic and hormone-free Angus beef that's never frozen and made-to-order as it's chargrilled to perfection. The company prides itself on sustainability recycling and composting all its food waste.
The pandemic harmed its growth, but momentum has returned as it falls further behind in the rearview mirror. The company competes with fast-casual burger chains like Shake Shack Inc. (NASDAQ: SHAK) and Red Robin Gourmet Burgers Inc. (NASDAQ: RRGB), not necessarily fast food joints like McDonald's Co. (NYSE: MCD) or The Wendy's Company (NYSE: WEN).
Anthony's Acquisition
It acquired Anthony's Coal-Fired Pizza and Wings for $156 million in 2021. Anthony's uses 900-degree pizza ovens and homemade pizza dough without freezers, microwaves or fryers. Everything, including the wings, is coal-fired and made-to-order.
Its total portfolio is comprised of 172 locations comprised of 112 BurgerFi and 60 Anthony's stores. BurgerFi has 87 company-owned and 85 franchised restaurants. In its marketing themes, BurgerFi uses the same green and white colors as Shake Shack.
Stabilizing for Growth
On May 16, BurgerFi released its first-quarter fiscal 2023 results for the quarter ending April 3, 2023. The Company reported an earnings-per-share (EPS) loss of (-$0.32) excluding non-recurring items versus consensus analyst estimates for a loss of (-$0.24), missing estimates by ($0.08).
Net loss was ($9.2 million) compared to $13.6 million in the year-ago period. Revenues rose 2% year-over-year (YoY) to $45.7 million, beating consensus analyst estimates of $1.76 million. Same-store comparable sales for BurgerFi fell (1%) but grew 3% for Anthony's. The company opened two new BurgerFi franchised restaurants in the quarter, with two more expected by month's end. Consolidated restaurant operating expenses as a percentage of sales improved by 260 bps.\
Executive Chairman
BurgerFi Executive Chairman Ophir Sternberg commented on the company's plans to open 15-20 new franchised restaurants this year, including its first franchised Anthony's. This includes the three new locations opened year-to-date. Through Lionheart Capital, Sternberg and certain senior board members and managers have acquired more shares to become the largest shareholders in the company, collectively owning 21% of the outstanding shares.
Interim CEO Insights
BurgerFi Interim-CEO and COO John Iannucci noted that BurgerFi had had a nationwide CEO search underway since its CEO Ian Baines announced his retirement effective June 7, 2023. He noted that the top-line momentum in Anthony's has translated into a 310 bps gain in margin expansion to 17.9% YoY. While BurgerFi store sales fell (4%) from the prior year, it has improved store-level operating margin by 100 bps to 12.6%.
He noted that food cost reductions stabilize input prices on beef and chicken wings. The company sees dividends from its investment in Anthony's loyalty program to grow engagement and boost same-store sales. He concluded, "In closing, we have two very high-quality brands that are on trend with the consumer and are laser-focused on enhancing operations and driving sales to achieve profitable growth. We further believe we're in the early innings of our growth story with significant white space ahead."
Reiterated Guidance
BurgerFi reiterated its fiscal full-year 2023 guidance for revenues between $175 million to $180 million. Consolidate low single-digit same-store sales growth is expected for its corporate locations. The company expects to open 15 to 20 more franchised restaurants, including its first, Anthony's. Adjusted EBITDA is expected between $10 million and $12 million. Capex is expected to cost around $2 million. 
BurgerFi analyst ratings and stock price targets are at MarketBeat.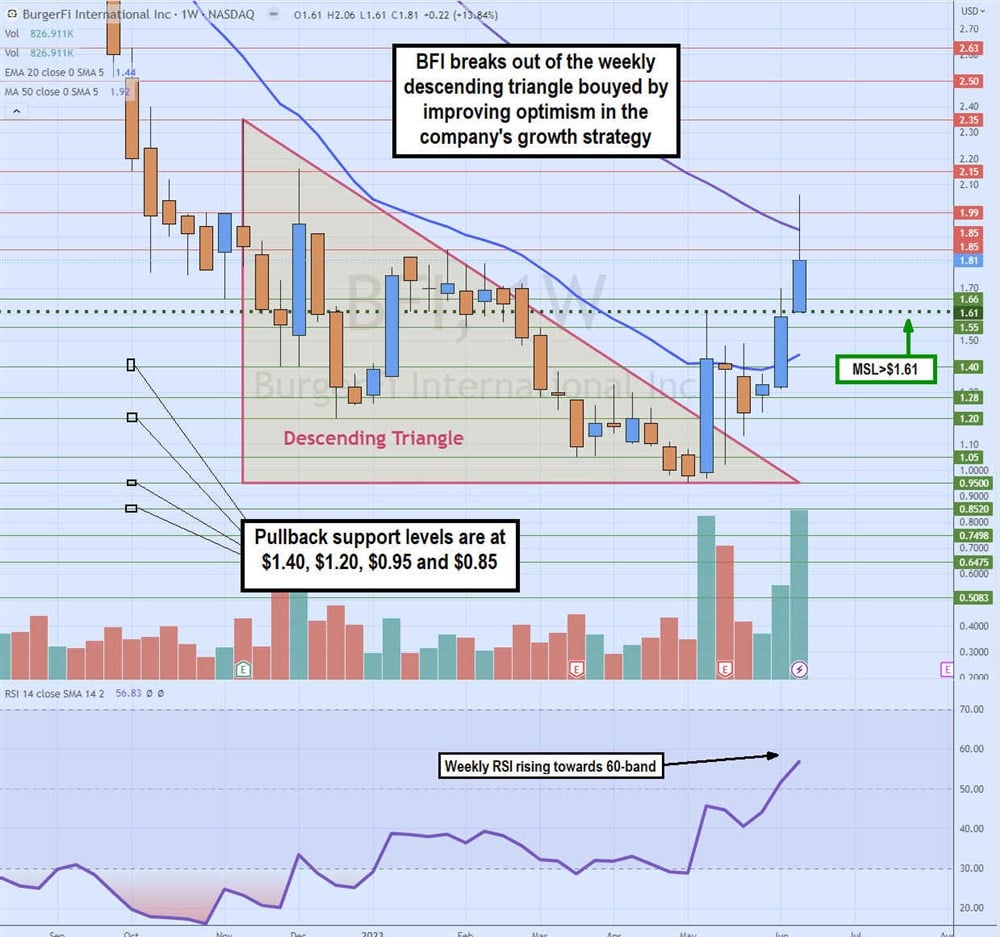 The definitive beginner's guide to reading stock charts can be found free on Marketbeat.
Weekly Descending Triangle Breakout
The candlestick chart on BFI illustrates the weekly descending triangle that commenced after peaking at $2.35 in November 2023. Shares continued to fall, making lower highs to form the ascending trendline. The sell-off concluded after making a new low at $0.95 in May 2023. BFI surged in late May 2023, breaking out through the ascending trendline at $1.20, forming the weekly market structure low (MSL) trigger on a breakout through $1.61. The weekly 20-period exponential moving average (EMA) attempts to hold support at $1.44. BFI shares spiked but fell below the weekly 50-period MA at $1.92. The weekly RSI is still rising towards the 60-band. Pullback support levels are $1.40, $1.20, $0.95 and $0.85.