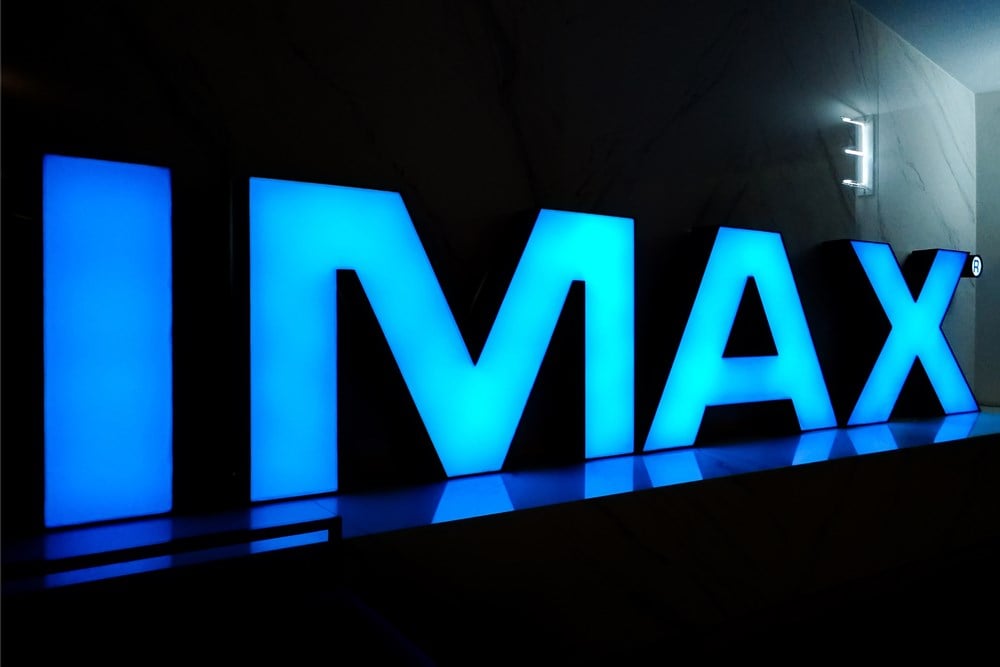 Immersive motion picture technology company IMAX Corp. (NYSE: IMAX) has a wide moat for its movie theater technology and systems. Not to be confused with movie theaters, IMAX licenses its movie theater systems but doesn't own the theatres. Unlike a movie theater's most considerable expense, IMAX doesn't have to pay rent; instead, it receives lease payments for providing theater systems to movie theaters.
This significant distinguishing factor kept its business from being crippled as badly as movie theaters during the pandemic lockdowns. IMAX sees the wind under its wings again from the re-opening and upgrade cycle that could put it back into growth mode.
Upgrade Cycle Tailwind
Movie theaters are upgrading their systems to attract moviegoers back to the cinema. Premium technology allows for premium-priced tickets. The cinema equipment upgrade cycle is a tailwind for the company. IMAX films are recorded at 10X the size of conventional 35mm films in traditional cinemas. They are recorded in 70mm at 24 frames per second (fps). During filming, three IMAX cameras shoot 12K videos from different angles.
When projecting IMAX films, two projectors operate simultaneously for the perfect image on IMAX screens, which can be up to 6X larger, and 10X sharper with 40% more image content than traditional cinema screens. It's genuinely an experiential event that can't be duplicated anywhere but in a movie theater.
Location Growth
Cinema operators like AMC Entertainment Holdings Inc. (NYSE: AMC) and Cinemark Holdings Inc. (NYSE: CNK) are clients that pay IMAX to lease its technology. They are usually in a revenue-sharing agreement, making it mutually beneficial when blockbuster movies hit the screens. IMAX will have 1,633 commercial locations worldwide in 87 countries at the end of 2022. The U.S. has 364 locations, but China has more than doubled at 778 locations.

China Re-Opening Tailwind
Before the pandemic, China grew into one of IMAX's largest markets. With 788 IMAX theater locations, it was the most significant marketplace outside of North America as of 2021 revenue-wise but has the most locations worldwide. With the lifting of zero-COVID restrictions, IMAX should enjoy a boost to both top and bottom lines as moviegoers return to the cinema.
Normalization
On Feb. 22, 2023, IMAX reported its Q4 2022 earnings report. The company reported a Q4 2022 earnings-per-share (EPS) profit of $0.19, excluding non-recurring items, versus consensus analyst estimates of $0.22, a (-$0.02) miss. Revenues fell (-9.7%) year-over-year (YoY) to $98 million, beating analyst estimates for $96.23 million.
The company expects a return to a gross box office level of $1.1 billion in 2023, driven by solid reopenings in China as they lift zero-COVID restrictions. It's benefiting from the "Avatar: Way of the Water" global box office strength. It recorded the highest-grossing Chinese film in IMAX, with "The Wandering Earth 2" generating a Chinese New Year box office of $61.3 million in 2023. IMAX hit a new Q1 box office record of $282.2 million, up 62.9% YoY. IMAX completed 92 technology system installations for the full-year 2022.
CEO Comments
IMAX CEO Richard Gelfond commented, "IMAX fully expects to resume pre-pandemic levels of performance in 2023, as we surge into the year with strong dual tailwinds — the record-breaking performance of 'Avatar: The Way of Water' and the rapid re-opening of China." The Avatar sequel is its highest-grossing release ever in 50 international markets.
A strong slate of big releases in 2023 will enable the company to expand its global footprint further. CEO Gelfond noted, "The rapid re-opening of China has been stunning and a powerful reminder of what we can deliver in the market given the strength of our brand, experience, and content portfolio of Hollywood and local blockbusters" and China was quickly reasserting itself as "one of the world's biggest moviegoing markets."
Weekly Cup and Handle Potential
The weekly candlestick chart on IMAX indicates the completion of the cup as it awaits a pullback of the cup lip line to form the handle. The cup lip line commenced in February 2022 as shares peaked at $21.25. IMAX shares continued to tumble to a low of $12.13 in October 2022. It staged a rally on the breakout through the $16.84 weekly market structure low (MSL) trigger, sending shares back up to retest the cup lip line at $21.25 by mid-April 2023. The weekly 20-period exponential moving average (EMA) has crossed through the 50-period MA for a breakout.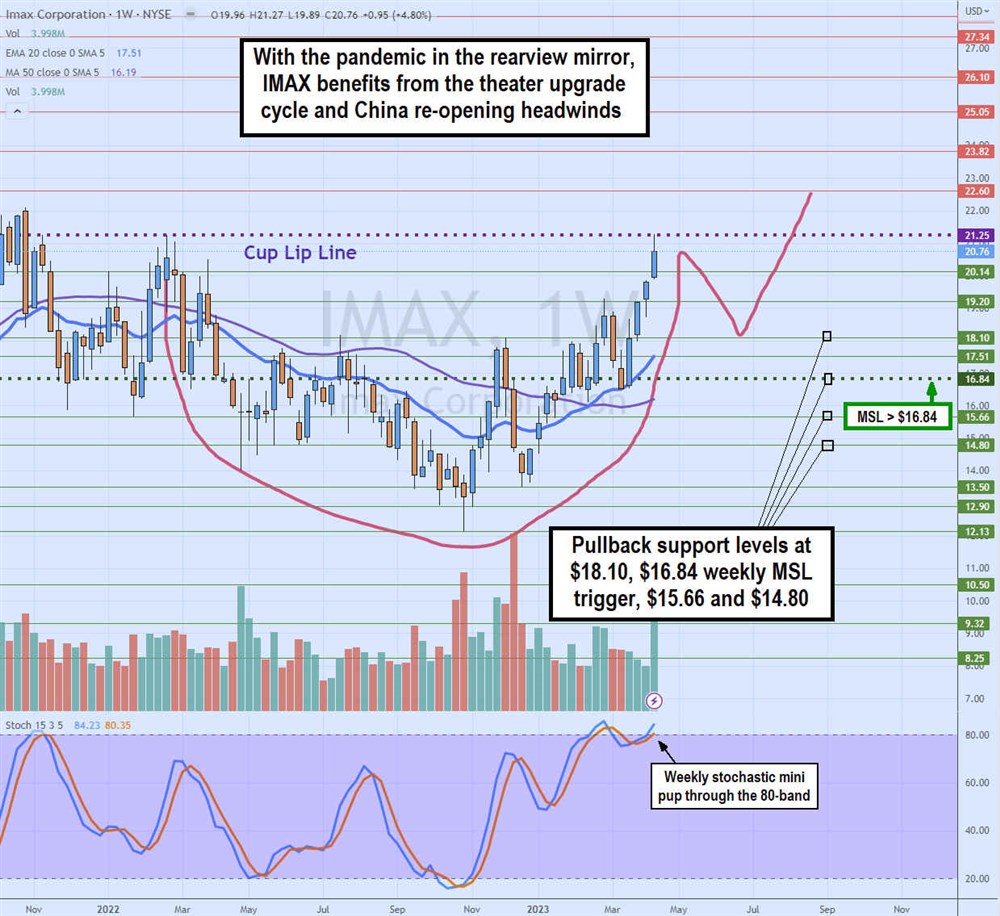 The 20-period EMA support rises to $17.51 as the weekly stochastic bounces back up through the 80-band in a mini pup. Shares can either break out through the cup lip line or have a pullback towards $18.10 to start forming a handle to set up a cup and handle breakout through the cup lip line. Pullback support levels are $18.10, $16.84 weekly MSL trigger, $15.66 and $14.80.