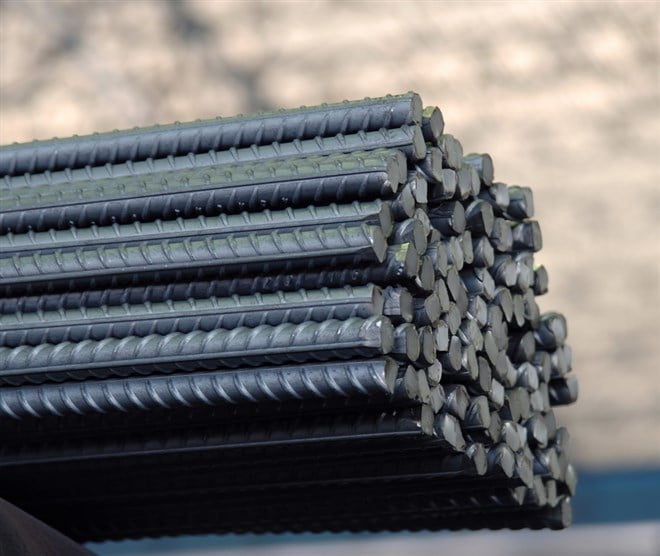 Steel prices are down compared to last year, but that has not hurt the cash-generating power of these companies. The spread between raw and finished steel remains favorable to profits and has dividends in a sweet spot. Commercial Metals (NYSE: CMC) and Worthington (NYSE: WOR) have differing appeals for investors; 1 is a deep-value dividend-paying stock, while the other is a higher yield with a spin-off opportunity. In either case, investors will find healthy balance sheets and businesses supported by backlog and demand. 
Commercial Metals Shines In CQ1
Commercial Metals Company is the stand-out winner in CQ1 with revenue growth of 1.0%. This is due in large part to expansion plans as well as end markets. The revenue beat the Marketbeat.com consensus by 400 basis points and led to solid results on the bottom line as well. On a segment basis, the company reported declines in North America and Europe attributed to lower pricing offset by a corporate segment gain. Margins came under pressure due to lower pricing and input cost pressure, but they held up and left the adjusted earnings ahead of consensus. 
Guidance is favorable because execs reiterated their prior revenue and margin expansion forecasts. Regarding the dividend, the stock yields about 1.45%, with shares trading near $46 and only costing 6.5X earnings. The chart suggests the value and yield may improve in the near term. The weekly candle shows support at the 2022 highs, but this support level will be tested before it can be called a bottom. The analyst rate the stock a Hold and see it trading about 15% above the current levels. The consensus is flat versus last month but trending higher than last year. The most recent targets see the stock trading another 10% above the consensus. 
"We are entering spring with record backlog value for this time of year and continue to experience healthy project bid volumes, giving us confidence in the strength of our book of business," CEO Barbara Smith said.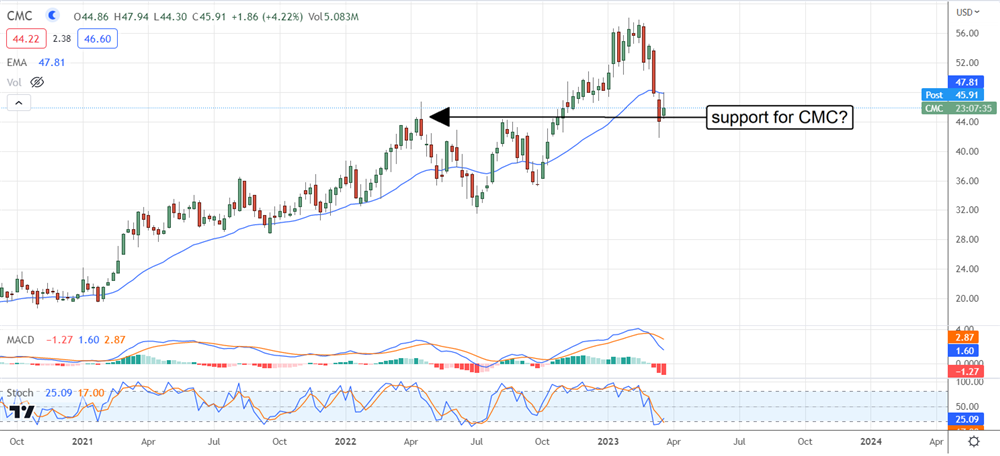 Diversified Worthington Industries To Spin Off Metals Business
Worthington Industries is a diversified metals company with a steel-products business supporting its steel consumer goods business. The company reported a 20% decline in revenue which is more in line with what Commercial Metals Company would have reported if not for the surprise Corporate gain. Regardless, the revenue came in better than expected, with margin improvement. Revenue declines are due to a 28% decline in the processing segment offset by a 1% increase in consumer sales and a 14% increase in Building Products. The split is expected to happen in 2024 and should unlock value for consumer and processing businesses. 
"We have good momentum heading into our fourth quarter and are optimistic that underlying demand for our key end markets will remain healthy," Worthington Industries CEO Andy Rose said. "Work continues on our Worthington 2024 plan, and we recently announced the future senior leadership teams for both companies. We remain confident that our planned separation will create two, distinct market leading companies that will generate long-term value for our shareholders."
Worthington Industries pays about 2.3%, with shares trading at $61.25, a 15% increase from the pre-release level. This payout is a low 25% of earnings compared to 6.5% for CMC and comes with an 8-year record of increases. Investors should not expect significant increases, but there is no reason to expect increases to cease.