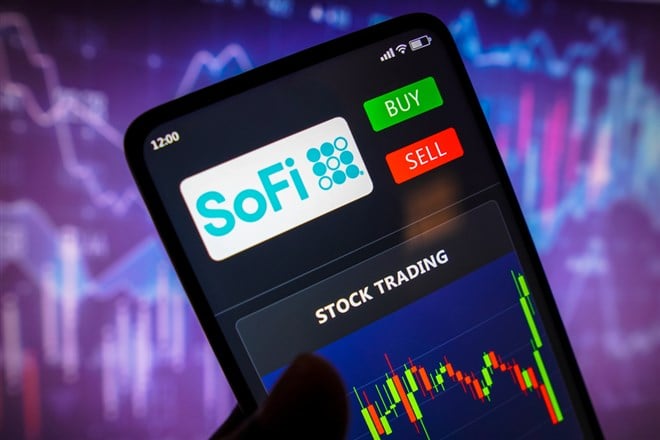 SoFi Technologies, Inc. (NASDAQ:SOFI) is up more than 15% in mid-day trading after crushing its fourth quarter and full-year earnings report on Monday, January 30. The company delivered revenue of $443.42 which was better than the $425.84 forecast by analysts. And earnings per share (EPS) came in at a negative 41 cents. But that was nearly 45% better than the negative 75 cents per share that was forecast.  
The primary reason for the robust report is that the company is adding more customers for what is becoming a wider range of financial products. For now, that is redirecting the headwinds caused by the continued student loan moratorium.  
And the growth is coming from the personal lending division. That's even as the company's student loan and housing loan portfolio sharply declined. Investors are particularly excited that SoFi is attracting "high-quality" customers with an average FICO score of around 740. That means that investors shouldn't be concerned about loan losses. 
That said, SOFI still has the label of a "SPAC" stock. The company went public via a special purpose acquisition company (SPAC) in October 2020. But after charging out of the gate, SOFI stock has been trading well below its SPAC price for nearly a year.   
The Last Domino May Get Ready to Fall 
An earnings report tends to be a lagging indicator because it tells you what a company has done. But investors pay close attention to management's comments to better understand what the company will do in the future. That may be the best reason to put SOFI stock on your watchlist.  
The last year's largest knock on SoFi Technologies is that it wasn't profitable. And the conventional wisdom was that the student loan moratorium would push profitability out to the distant future. But in its guidance, the company forecasts that it will become profitable in the fourth quarter of this year.  
That's put a large target for SoFi to hit. But if it does, then buying SOFI stock for under $8 will look like a great buy.  
Waiting on Analysts 
So far, analysts haven't weighed in on SoFi's results. Before earnings, the analysts surveyed by MarketBeat had a consensus price target of $8.96. If the stock hits that number, it's possible the stock could be heading for $10 a share. But this is still a time for investors to be cautious.  
What Could Go Wrong? 
Sofi Technologies continues to execute at a high level. And that is bullish for investors willing to wait on the company to become profitable. But if you don't currently have a position in SOFI stock, you may want to wait for a couple of reasons.  
To begin with, short interest remains in the double digits. There is some sentiment that short sellers may have stayed away when SOFI stock hit a 52-week low in December. But with a price jump like this, the bears may get anxious to jump back in.  
This is particularly true with the Federal Reserve scheduled to deliver its latest decision on interest rates later this week. The Fed expects to raise interest rates by 25 basis points. However, there's some suspicion that it could raise rates by 50 basis points (i.e. 1/2 of 1%). That would likely be bearish on equities in general.