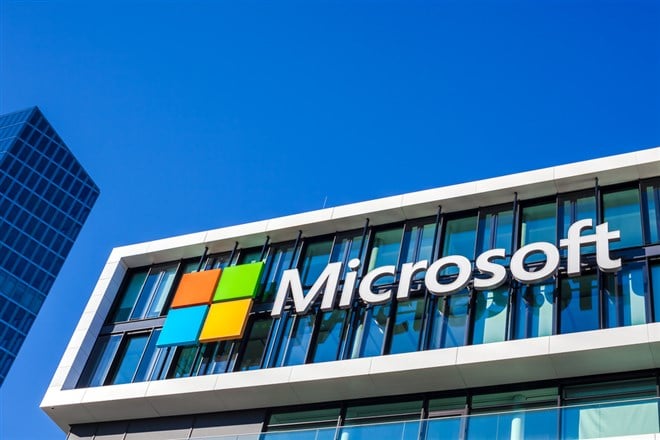 After having tagged a 52-week low last November, and failing to break below it during this month's dip, the momentum in Microsoft Corp's (NASDAQ: MSFT) shares has swung the other way. They've jumped 15% since the start of the month and has set a higher low, are close to setting a higher high.
This would confirm the bull thesis that's been strengthening all month and point to brighter days ahead for the tech giant. Having watched their shares fall as much as 40% from 2021's all-time high, this will be a welcome turn of events for investors. 
Let's take a look at some of the fundamental and technical factors that underpin the growing likelihood of a comeback.
Bullish Tailwinds
For starters, shares have been buoyed this week by the company's fiscal Q2 results, which were released on Tuesday. While the headline revenue and earnings numbers were essentially in line with expectations, Wall Street was particularly impressed with the performance of certain business units.
In particular, the numbers from Microsoft's Intelligent Cloud and Office services topped expectations and showed decent year-on-year growth, 18% and 7%, respectively. Given the unfavorable climate for tech companies in the past twelve months, this earnings report will be viewed as a vindication of the bull's thesis and the stock's long-term promise.  
Having grabbed the headlines for all the wrong reasons the previous week as management laid off 10,000 employees, this week's news helped put that behind them. The stock has had two big days of a strong bids since then, and shares were up again in Friday's pre-market session.
This earnings season will be watched closely by tech-focused investors, who will be looking for confirmation that the headwinds which plagued their stocks in 2022 have indeed begun to dissipate.
This was a theme picked up on by Dan Ives over at Wedbush this week, who, in a note to clients, wrote that "in a nutshell, our overall view is that tech spending is holding up much better than is being priced into these stocks." He and his team believe that Wall Street has already priced in a cut of between 8-10% for the full year 2023 estimates across the board, in what could be a "rip the band-aid off moment." 
If earnings from the likes of Microsoft and other big techs names like Salesforce Inc (NASDAQ: CRM) and Meta Platforms Inc (NASDAQ: META) can steady the ship and counter the worst-case scenario thesis from last year, then we should be looking at a good few months for tech. Ives believes the numbers from this group and the peers will be the "first major step" towards stabilizing the tech industry.
He's looking for a 20% rally across the board in 2023, based on the premise that tech stocks are "way oversold" at current levels. 
In Microsoft's case, it's hard to argue with this. Already we're seeing the stock's RSI move up off the 30 levels which indicated extremely oversold conditions earlier this month. The stock's MACD lines also had a bullish crossover last week and are close to going positive. Both these technical indications point to growing momentum on the bid and bode well for a continued move north. And furthermore, Marketbeat's MarketRank Forecast has shares rated as a Moderate Buy. 
Getting Involved 
Risks, of course, remain, however. Microsoft shares had their rating cut by the Guggenheim team last week, who were wary of any wider slowdown across the company's business units. While some, as discussed, performed well, this week's report did flag a weakening forecast for Microsoft's Azure cloud unit.
In the conference call following the release this week, management admitted that the slowdown, which had been picked up on in December, had worsened into January. Also of concern is the company's Personal Computing business unit, which in analyst Dan Ives' words, is a "well-known disaster". 
Bulls will be hoping that many of these concerns are already priced into the share price and that the decent growth in the other units can do more than make up the difference. Shares have performed well in the immediate aftermath of the report and look set to keep climbing higher into February. If they can get above the $264 peak from December, they'll be well on their way to forming a longer-term uptrend.