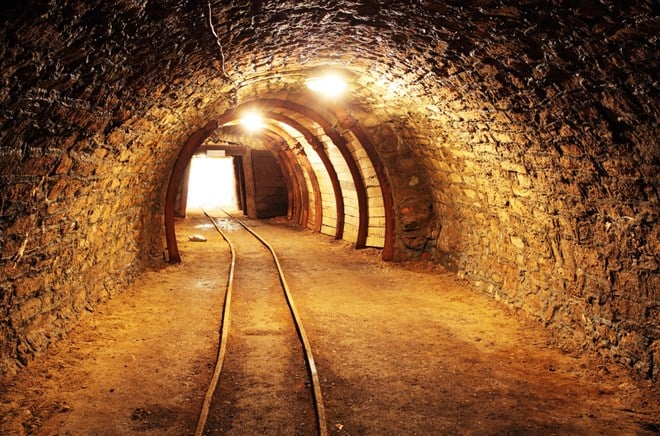 Miners BHP Group Limited (NYSE: BHP), Rio Tinto Group (NYSE: RIO) and Vale S.A. (NYSE: VALE) were among the big gainers Thursday as their industry group moved higher, largely on the news from China and Saudi Arabia. 
Australia-based BHP climbed more than 2% by mid-session Thursday, buoyed by news that Saudi Arabia was attempting to diversify its economy into areas other than oil production. The nation's sovereign wealth fund and miner Ma'aden had formed a joint venture to invest in copper, iron ore, nickel, and lithium. The venture's initial funding totals $3.2 billion. 
In addition, Saudi Arabia is working to attract some of the top miners globally to develop mineral deposits. The nation has been a big importer of minerals. Still, its own mining industry has been puny, despite Saudi Arabia having deposits of gold, uranium, zinc, and the ever-important copper, among other assets.
At a mining conference in Riyadh this week, BHP CEO Mike Henry cited the global need for triple the metals currently being used. Rio Tinto president Dominic Barton alluded to the role of minerals in the worldwide push toward renewable energy. 
Shares of U.K-based Rio Tinto advanced nearly 3%, while Brazilian large-cap Vale was up 2.65%. 
While miners as a group were up 2% in Thursday's session, U.S.-based Freeport-McMoRan Inc. (NYSE: FCX) was down 0.31%, while Southern Copper Corporation (NYSE: SCCO) rose 2.67%. 
Anticipating Demand From China 
The real story is how the entire mining industry has rallied since murmurs began about China's post-Covid reopening. Although it's been a messy process, China's reopening increased optimism about demand from the world's largest consumer of metals and materials. 
For example, copper rallied more than 11% since January 4, although it's still down significantly from its May 2021 high. 
BHP, whose two biggest business segments are iron ore and copper, in that order, this week cleared a cup-with-handle pattern with a buy point above $66.18. 
In addition to China's reopening and the news from Saudi Arabia, mining stocks will likely benefit from a new consortium in that nation, which is set to ramp up its steelmaking this year. That would entail buying more iron ore. 
BHP, Rio Tinto, Vale, Freeport-McMoRan and Southern Copper were among the mining stocks that made significant price moves in November, clawing their way out of corrections that began in April of last year. 
The mining industry as a whole followed the same trajectory.
BHP is the largest company in that industry, with a market capitalization of $173.70 billion. It's advanced 34.25% in the past three months. 
Wall Street Sees Earnings Declining 
Since the first quarter of 2021, revenue and earnings growth have slowed. That tracks with the company and industry-wide price declines. Despite the clear optimism investors have shown recently, Wall Street expects earnings declines in the next two years. That's the case with other mining companies, as well. 
Why the disconnect between earnings expectations and investor enthusiasm? 
Investors may be getting ahead of the next round of earnings reports, which will start trickling in later this month. If ramped-up global demand does indeed spur greater-than-expected revenue growth, that could result in estimates being revised higher. 
This is a case of several companies within an industry behaving similarly. That's good for would-be investors, as it signifies group-wide strength. Similar trends occurred in 2021 with networking stocks and those offering cloud-based platforms for various enterprise uses. 
It's also an example of the "worst to first" phenomenon, in which an industry beaten down rotates back into leadership. Often that's due to changing economic or market conditions, as is the case with miners. Still, it can also result in investors spotting a bargain relative to earnings potential. 
Even if you miss the breakout on BHP or other miners, they will likely offer a secondary buying opportunity on a pullback to a moving average, such as the 10-day, 21-day or 50-day line.