HESPERIA, Calif., Aug. 30, 2023 (GLOBE NEWSWIRE) -- 5E Advanced Materials, Inc. (Nasdaq: FEAM) (ASX: 5EA) ("5E" or the "Company"), a boron and lithium company with U.S. government Critical Infrastructure designation for its 5E Boron Americas (Fort Cady) Complex, today announced its financial results for its 2023 fiscal year ended June 30, 2023.

HIGHLIGHTS
Construction of Fort Cady Small-Scale Boron Facility (SSBF) is nearly complete, representing the single most significant near-term growth project in the US for the production of boric acid and critical mineral derivatives, plus lithium carbonate
5E has all requisite permits in place and is awaiting a response from the Environmental Protection Agency ("EPA") for authorization to perform step rate testing, the last 5E deliverable required before the approval to commence mining
Boric acid demand continues to accelerate as supply becomes increasingly vital for a host of sustainable solutions
5E remains well-positioned to become a primary domestic U.S. supply leader of boric acid in the near future, with the only project that has a fully-permitted boron resource and commercially viable mineralization
Company has received Letters of Intent with Estes Energetics and Orbital Composites to further its downstream derivative product strategy
5E has and will continue to manage its capital outlay schedule prudently and has meaningfully reduced expenses to maximize near-term cash and liquidity
"Fiscal 2023 was a pivotal year for 5E as our team made significant progress towards advancing the Company to commercial operations," said Susan Brennan, Chief Executive Officer of 5E Advanced Materials. "With the final construction of our Fort Cady boron facility nearing completion, 5E is positioned to be a significant player in the global market for boric acid, boron derivatives and lithium carbonate, which will allow us to capitalize on megatrends such as vehicle electrification, renewable energy development, and global food security. When fully operational, Fort Cady will be one of the largest boron operations in the world and one of the largest lithium operations in the U.S."
Brennan continued, "In terms of an update on our EPA process, we have all the requisite permits in place and have submitted all the materials that we believe are required. We are ready to receive authorization to perform step rate testing in the coming weeks and should be able to provide the results of that work to the EPA within approximately 10 to 14 days after completion. The results of the step rate testing are the final deliverable required by the EPA for them to authorize 5E to commence mining. Until that time, we will continue to optimize the efficiency of our operations, control costs, prioritize liquidity, and strategically prepare for the future. Our journey has only just begun, and we are dually excited and motivated to execute on our vision and translate that execution into value creation."
Corporate Strategy Update
5E is positioned to become a vertically integrated, global leader in boric acid and lithium carbonate. 5E's resource quality, domestic supply source, and commitment to developing an integrated boron derivative supply chain will provide a competitive advantage given end products anticipated to be produced, scarcity of resource, and current reliance on unstable, international supply chains that are in a production decline.
The Company's primary focus has been on the construction and commissioning of its 2,000stpa Small-Scale Boron Facility (SSBF) in Newberry Springs, California. With the completion of the SSBF, 5E is set to become the newest domestic producer of boric acid and lithium carbonate. The SSBF will allow the organization to advance its business strategy by looking for ways to optimize the production of boric acid and lithium carbonate, provide product for off-take agreements, and serve as a model for the commercial phases of the overall complex.
In May 2023, 5E released the results of its Technical Report Summary detailing out the three phases of construction designed to ultimately bring 450,000stpa of boric acid and 5,500stpa of lithium carbonate in the U.S. and global markets. This multi-phased, de-risked approach provides the Company with a manageable capital expenditures program and construction timeline, with commercial boric acid and lithium production targeted to come on-line by the second half of 2026. This report underscored the Company's commitment to transparency and accountability, validated the economic viability of the project, and highlighted the criticality of 5E in meeting the growing demands for boric acid and lithium supply to the broader market.
5E Boron Americas Complex Update
Over the past year, 5E has achieved key milestones on its SSBF in Newberry Springs, California. The facility's PLS and Utility areas are mechanically complete, commissioned and ready for operation. Mechanical completion and commissioning of the Wellfield hinges on the final clearance by the EPA to commence mining. While working closely with the EPA to get final authorization, the Company has also focused on several optimization initiatives:
Incorporating new wellhead designs which allow for the integration of enhanced recovery techniques and other optimization measures;
Optimizing the plant's expected boric acid recovery rates to 92% by improving key purification steps;  
By elevating the head grade of boric acid, 5E anticipates a 60% reduction in energy consumption, reflecting the Company's dedication to sustainability, decarbonization, and optimization; and
Optimizing gypsum production and reduced impurities by 2.5% accompanied by an improved conversion of more than 98% to the dihydrate form of gypsum, which allows the Company to sell into all gypsum end markets and maximize its value.
5E Boron Americas Complex Photos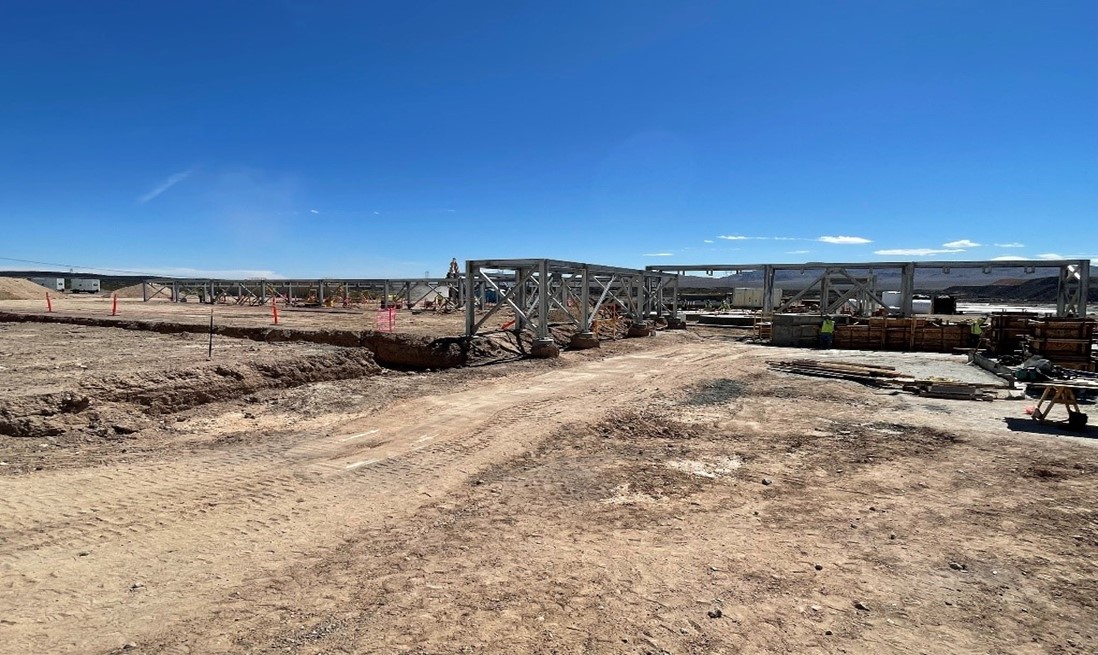 September 23, 2022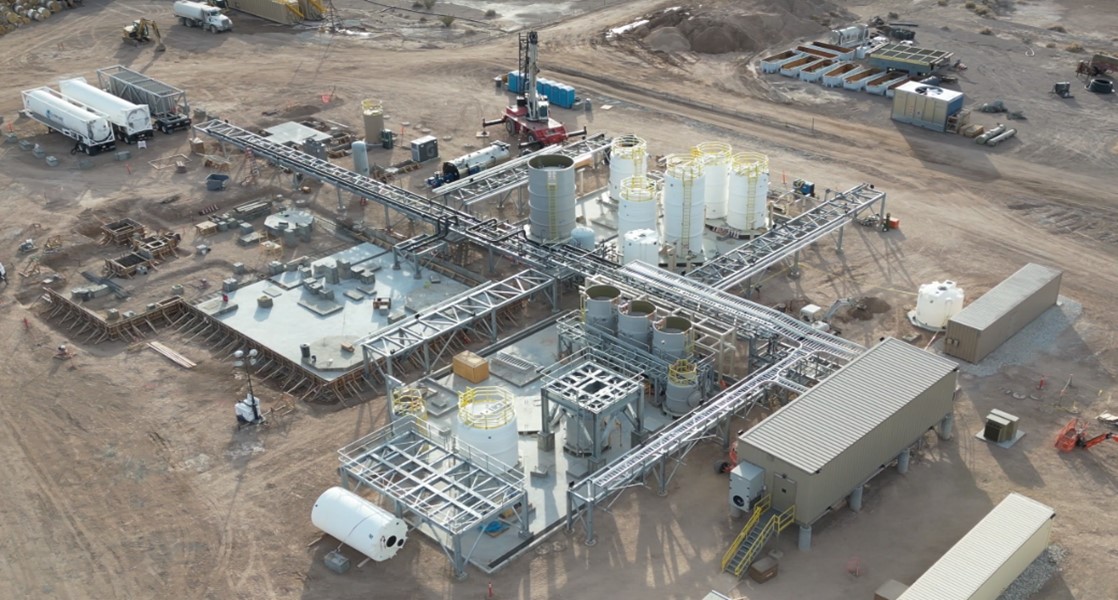 December 22, 2022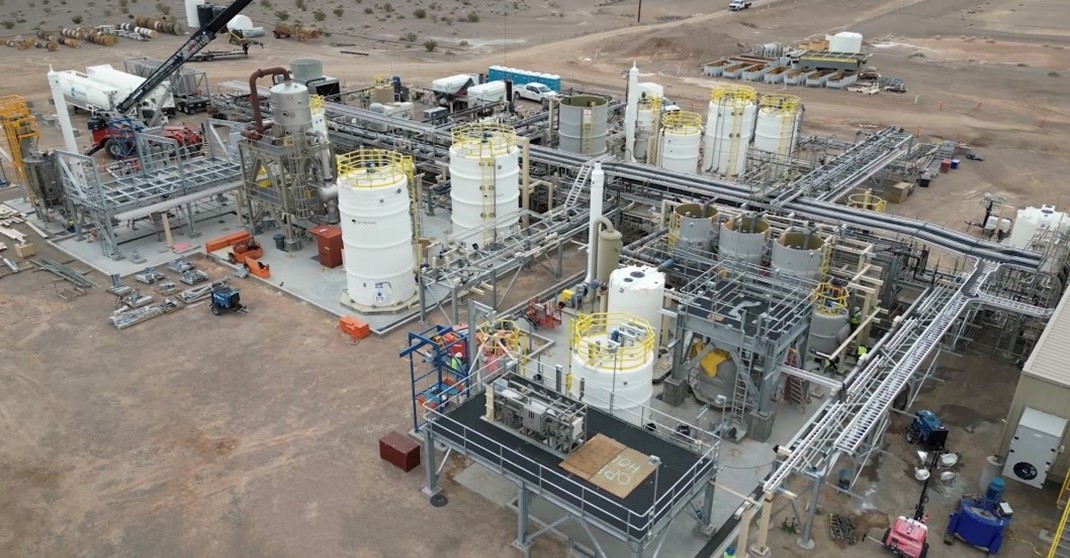 March 17, 2023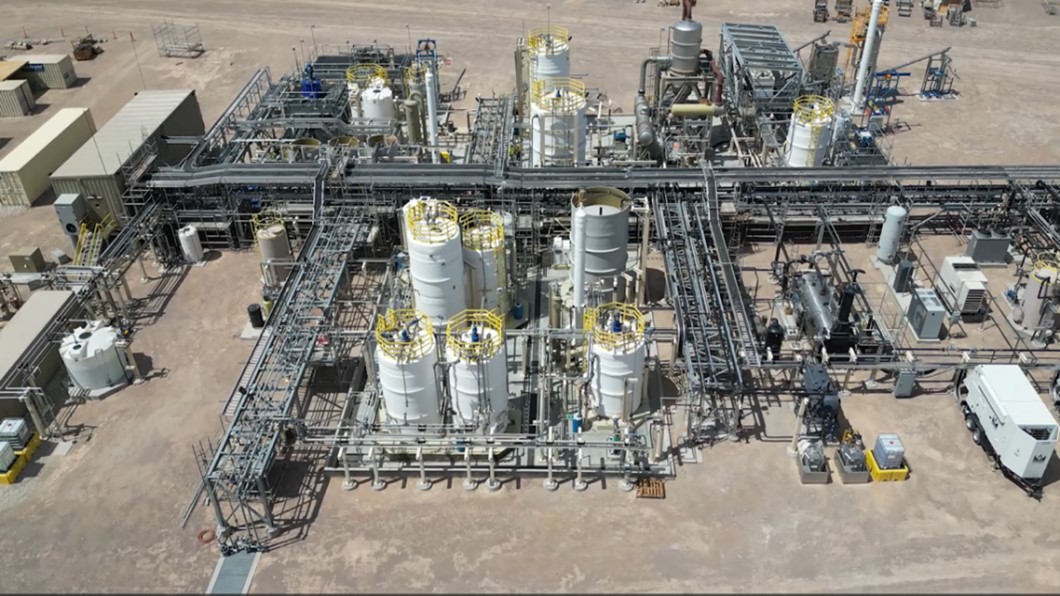 July 25, 2023
Government Affairs Update
In January 2023, 5E engaged partners to help procure U.S. Government-backed funding initiatives as part of the Company's overall capital funding strategy. The Company has since been briefing various federal departments, agencies, and policy makers on the criticality of boron in both energy and defense applications and highlighting the growing gap in supply versus demand.
5E identified two primary governmental funding programs, in which it believes it is eligible to participate. The first is the DPA Title III program in the Department of Defense. Boron and boron advanced materials have direct links into armor-related applications, fuel and rocket propulsion, as well as advanced ceramics, all of which are supported under this program.
Second, the Department of Energy and its Loan Programs Office have a program that provides funding for renewable energy and energy transition related projects and materials. To become eligible under this program, the Company is directly connecting the use of boron, or more specifically boric acid, in applications such as fiberglass for wind blades generating wind power and into ferroboron for permanent magnets. The inclusion of boric acid into turbine blades, and rare-earth magnets (neodymium ferroboron) are a key component into the global energy transition currently taking place.
5E believes it has a very strong business case for both funding opportunities and is currently pursuing both as part of its long-term capital needs to execute the first phase of its 5E Boron Americas Complex in Newberry Springs, CA.
Commercial Update
5E has taken several steps to further its commercial agenda, including the commissioning of several key market studies focusing on its primary product of boric acid and derivatives, and byproducts lithium carbonate and gypsum. As described in the Technical Report Summary and verified through third parties, the boric acid market is experiencing shortfalls of supply, and demand growth is expected to outpace supply growth in years to come. The Company's entry to the boric acid market will occur as pricing is expected to shift higher due to these market dynamics. 
To this end, 5E successfully added letters of intent with Estes Energetics and Orbital Composites, which compliments its previously announced agreements with Corning International and others. The Company now has multiple signed non-binding letters of intent and/or proposal letters with clear objectives agreed in principle, which confirms the view that customer demand for boric acid or advanced materials are unsatisfied by the incumbent market. To further these agreements and others, 5E has discussed the qualification processes with anticipated customers and expects to begin qualification shortly after production from the SSBF.
In addition to the Company's work around boric acid, 5E has discussed a lithium carbonate offtake with several interested parties and has had early-stage discussions for gypsum off-take. Through fiscal year end, the Company continued to refresh and renew its intellectual property strategy and mature the advanced materials strategy, working to identify ideal market synergies and competitive dynamics to improve its entry plan into these markets. 
Discussions have continued with several partners to use all or part of the production volume from the SSBF to produce boron specialties and advanced derivatives to accelerate market entry and profitability. These discussions have been secondary to our primary focus on the boric acid market but continue to mature and set the stage for future growth.
Fiscal Year 2023 Financial Highlights
As of the fiscal year end, 5E maintained a cash balance of $20.3 million. Construction in progress was $67.5 million compared to $25.6 million in the prior year.
For the year ended June 30, 2023, project expenses decreased 23% and costs incurred during the current year were predominantly driven by plugging and abandoning historic drill wells per the Company's permit requirements ($4.5 million), permit compliance ($1 million), and construction related insurance ($0.76 million).
General and administrative expenses decreased 54% to $25.3 million of which $4.9 million was attributed to share based compensation expense. 5E is committed to continuing to reduce general and administrative expenses.
 
 
 
 
 
 
 
 
 
 
 
 
 
 
 
 
 
 
 
 
 
 
Year Ended June 30,
 
Variance
 
 
 
 
2023
 
 
 
2022
 
 
$
 
%
 
 
 
 
 
 
 
 
 
 
 
COSTS AND EXPENSES
 
 
 
 
 
 
 
 
 
Project expenses
 
$
9,988
 
 
$
12,902
 
 
$
2,914
 
 
23
%
 
General and administrative
 
 
25,365
 
 
 
54,684
 
 
 
29,319
 
 
54
%
 
Research and development
 
 
262
 
 
 
133
 
 
 
(129
)
 
-97
%
 
Impairment
 
 
908
 
 
 
—
 
 
 
(908
)
 
N/A
 
Depreciation and amortization expense
 
 
184
 
 
 
112
 
 
 
(72
)
 
-64
%
 
Total costs and expenses
 
 
36,707
 
 
 
67,831
 
 
 
31,124
 
 
46
%
 
LOSS FROM OPERATIONS
 
 
(36,707
)
 
 
(67,831
)
 
 
31,124
 
 
-46
%
 
NON-OPERATING INCOME (EXPENSE)
 
 
 
 
 
 
 
 
 
Other income
 
 
62
 
 
 
65
 
 
 
(3
)
 
-5
%
 
Interest income
 
 
1,147
 
 
 
3
 
 
 
1,144
 
 
*
 
Derivative gain (loss)
 
 
11,743
 
 
 
—
 
 
 
11,743
 
 
N/A
 
Interest expense
 
 
(6,854
)
 
 
(6
)
 
 
(6,848
)
 
*
 
Net foreign exchange gain (loss)
 
 
(15
)
 
 
1,056
 
 
 
(1,071
)
 
-101
%
 
Total non-operating income (expense)
 
 
6,083
 
 
 
1,118
 
 
 
4,965
 
 
*
 
NET INCOME (LOSS)
 
$
(30,624
)
 
$
(66,713
)
 
$
36,089
 
 
-54
%
 
 
 
 
 
 
 
 
 
 
 
* Represents a percentage change greater than +/- 300%
 
 
 
 
 
 
 
 
 
 
 
 
 
 
 
 
 
 
 
About 5E Advanced Materials, Inc.

5E Advanced Materials, Inc. (Nasdaq: FEAM) (ASX: 5EA) is focused on becoming a vertically integrated global leader and supplier of boron specialty and advanced materials, complemented by lithium byproduct production. The Company's mission is to become a supplier of these critical materials to industries addressing global decarbonization, food and domestic security. Boron and lithium products will target applications in the fields of electric transportation, clean energy infrastructure, such as solar and wind power, fertilizers, and domestic security. The business strategy and objectives are to develop capabilities ranging from upstream extraction and product sales of boric acid, lithium carbonate and potentially other byproducts, to downstream boron advanced material processing and development. The business is based on our large domestic boron and lithium resource, which is in southern California and designated as Critical Infrastructure by the Department of Homeland Security's Cybersecurity and Infrastructure Security Agency.
Forward-Looking Statements and Disclosures
This press release includes "forward-looking statements" within the meaning of the Private Securities Litigation Reform Act of 1995, as amended. All statements other than statements of historical fact included in this press release regarding our business strategy, plans, goal, and objectives are forward-looking statements. When used in this press release, the words "believe," "project," "expect," "anticipate," "estimate," "intend," "budget," "target," "aim," "strategy," "estimate," "plan," "guidance," "outlook," "intent," "may," "should," "could," "will," "would," "will be," "will continue," "will likely result," and similar expressions are intended to identify forward-looking statements, although not all forward-looking statements contain such identifying words. These forward-looking statements are based on 5E's current expectations and assumptions about future events and are based on currently available information as to the outcome and timing of future events. We caution you that these forward-looking statements are subject to all of the risks and uncertainties, most of which are difficult to predict and many of which are beyond our control, incident to the extraction of the critical materials we intend to produce and advanced materials production and development. These risks include, but are not limited to: our limited operating history in the borates and lithium industries and no revenue from our proposed extraction operations at our properties; our need for substantial additional financing to execute our business plan and our ability to access capital and the financial markets; our status as an exploration stage company dependant on a single project with no known Regulation S-K 1300 mineral reserves and the inherent uncertainty in estimates of mineral resources; our lack of history in mineral production and the significant risks associated with achieving our business strategies, including our downstream processing ambitions; our incurrence of significant net operating losses to date and plans to incur continued losses for the foreseeable future; risks and uncertainties relating to the development of the Fort Cady project, including our ability to timely and successfully complete our Small Scale Boron Facility; our ability to obtain, maintain and renew required governmental permits for our development activities, including satisfying all mandated conditions to any such permits; and other risks. Should one or more of these risks or uncertainties occur, or should underlying assumptions prove incorrect, our actual results and plans could differ materially from those expressed in any forward-looking statements. No representation or warranty (express or implied) is made as to, and no reliance should be place on, any information, including projections, estimates, targets, and opinions contained herein, and no liability whatsoever is accepted as to any errors, omissions, or misstatements contained herein. You are cautioned not to place undue reliance on any forward-looking statements, which speak only as to the date of this press release.
For additional information regarding these various factors, you should carefully review the risk factors and other disclosures in the Company's Form 10-K filed on August 30, 2023. Additional risks are also disclosed by 5E in its filings with the U.S. Securities and Exchange Commission throughout the year, including its Form 10-K, Form 10-Qs and Form 8-Ks, as well as in its filings under the Australian Securities Exchange. Any forward-looking statements are given only as of the date hereof. Except as required by law, 5E expressly disclaims any obligation to update or revise any such forward-looking statements. Additionally, 5E undertakes no obligation to comment on third party analyses or statements regarding 5E's actual or expected financial or operating results or its securities.  
For further information contact: