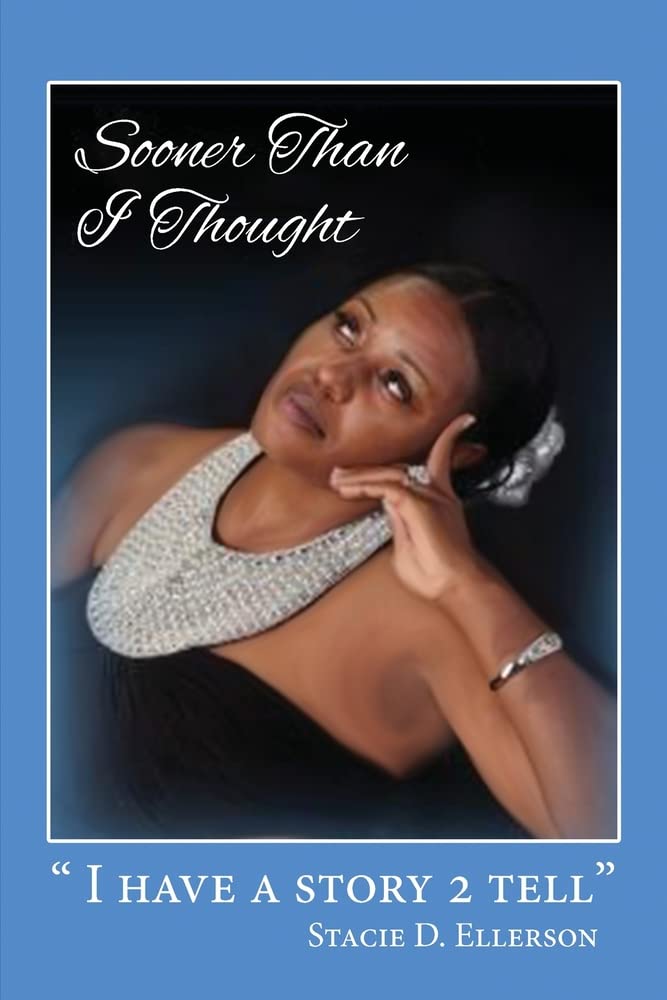 "Sooner Than I Thought" is a powerful and moving memoir that tells the story of one woman's journey through love, loss, and hope. Written by author Stacie D Ellerson, this deeply personal and emotional book takes readers on a journey through the author's life, sharing intimate details of her struggles and triumphs.
The book begins with the author's childhood, growing up in a small town and dreaming of a better life. She did not maintain a lasting relationship with her true love.Through the pain and heartache, the author finds the strength to keep going and begins to rebuild her life. She finds comfort in the support of her family and friends and begins to see the world in a new light. With the help of her angels, she discovers a newfound sense of hope and resilience.
Throughout the book, the author shares her personal experiences and reflections on love, loss, and hope. She candidly shares the ups and downs of her journey and the lessons she has learned along the way. Her writing is honest and raw, capturing the emotions and feelings of her experiences in a way that is both relatable and inspiring.
"Sooner Than I Thought" is a must-read for anyone who has ever been through a difficult time and struggled to find hope. The author's powerful and uplifting story will resonate with readers and provide a sense of comfort and inspiration.
The book is available for purchase on Amazon.
About Author's Tranquility Press
Author's Tranquility Press is a top publicity agency known for delivering innovative solutions designed to help writers across genres to reach a wider audience. The company combines the use of the latest technologies and the expertise and diverse experience of the team to provide quality, relatable content to as many people as possible, irrespective of their location across the globe.
Media Contact
Company Name: Author's Tranquility Press
Contact Person: Patricia Adams, Marketing Supervisor
Email: Send Email
Phone: (866) 411-8655
Address:3800 CAMP CREEK PKWY SW BLDG 1400-116 #1255
City: Atlanta
State: Georgia, 30331
Country: United States
Website: www.authorstranquilitypress.com