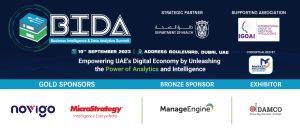 Dubai, UAE, 18th September 2023, ZEX PR WIRE, The highly anticipated Business Intelligence and Data Analytics Summit 2023, is set to take place in the Adress Boulevard, Dubai, United Arab Emirates (UAE) on 19 September 2023. Organized by Market Solutions Event Management (MS Events). The event is supported by International group of Artificial Intelligence(IGOAI) and strategic partner Department of Health. Generously sponsored by the Gold Sponsors Micro Strategy and Novigo Solutions, as well as supported by Bronze partner Manage Engine and Exhibitor Damco, this summit promises to be an insightful and transformative event for business leaders, data professionals, and technology enthusiasts.
The Business Intelligence and Data Analytics Summit is the premier gathering of data professionals, analysts, and industry leaders, providing a platform for networking, knowledge sharing, and exploration of the latest trends and innovations in the field of data analytics.
Key Highlights of the Summit:
The Evolving Role of Data and Analytical Leaders: Navigating Leadership in the Era of Data
Real-Time Analytics Redefined: Harnessing the Potential of BI for Actionable Insights
The Significance of Open Data and its Role in Driving Actionable Insights and Informed Decision-Making
Maximizing Data Value Through Financial Accountability
Speaker Line- up:
Fatmah Al Abdouli, Director of Data Management & Statistics , Ministry of Energy an Latifa Saleh AlShehhi
Data Management Section Manager, Roads and Transport Authority (RTA) UAEd Infrastructure, UAE
Ali Abuzinjal, Head of Digital Transformation, Sharjah Research, Technology and Innovation Park
Sara Abdulla Al Mashjari, Head of Health Informatics, Department of Health
Mohammed Jarood, Co-Founder and COO, Novigo
Rahul Otawat, VP, Strategy, Analytics & Data Science, Mashreq Bank
Imran Shaikh, Chief Technology Officer, Virgin Mobile UAE
Awad El-Sidiq, Head of Artificial Intelligence and Analytics, ADNOC
Dana Shatila , Head of IT Planning & Strategy, Abu Dhabi Media
Rishi Mathur, Sales Engineering Leader MEA, Turkey and India, MicroStrategy
Addel Al Ameri, Vice President Strategy & Excellence, Higher Colleges of Technology
Sona Saha Das, Head of Data & Integration, IT, Alshaya Group
Arsalan Shakeel, Principal Data Architect, Novigo
Zaheera Ahmed, Data Privacy Officer, Leading Islamic Bank in the UAE
Ali Yakub, Head of Business Intelligence and Analytics, Tamara
Hady Soliman, Head of Analytics & AI, Former ADDA
Join us at the Business Intelligence and Data Analytics Summit 2023 as we explore the limitless possibilities of data and shape the future of UAE's data-driven economy. Be a part of the conversation, and let's transform data into actionable insights together.
For more information you can email info@msevents.ae or call 971 4 331 1622. Or visit https://l8.nu/rGfk
About: Market Solutions Event Management (MS Events)
MS Events is a leading event organization specializing in dynamic conference and business-to-business events company with the goal of hosting unparalleled events on a global scale. We are here to create a powerful ROI driven business platform that delivers practical solutions while embracing the latest innovation for the MEA region. With a commitment to innovation, excellence, and collaboration, we are dedicated to empowering businesses and professionals with the knowledge and tools needed to thrive in today's data-driven world.
Visit: https://msevents.ae/