Coverfour protects the home in a similar manner to how commercial buildings are professionally protected without complications or high prices.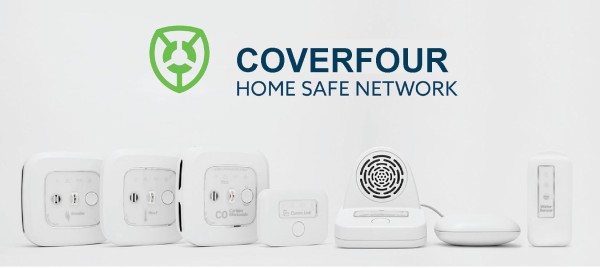 The Coverfour Fire Protection Network might be the best way to bring homes closer to the same level of protection that a commercial building enjoys. Coverfour demonstrates how to safeguard all four corners of the homes with smoke-sensing equipment, fire and heat sensors, carbon monoxide sensors, and water sensors for detecting those water leaks that plague the homes.
Since the NFPA reports that statistically, every household goes through a fire at some point, it is evident that the majority of people are not prepared. This becomes very apparent when they compare the number of fire injuries and deaths in commercial buildings to those in homes. Most of the problems occur at home, particularly during nighttime fires when the fire has a chance to grow. Given that time is crucial in this situation, it is essential to enhance the protection of the homes. The challenge that most people dislike is the high expense that hospital-type equipment incurs.
While other options on the market are much cheaper, they do not provide full home protection. The options found on Amazon are tempting due to their low prices. However, be sure to read the reviews. The five-star reviews have something in common: the equipment is new and exciting. The one-star reviews also share a common thread—the alarms didn't work during their fires.
The majority of Americans have smoke alarms that meet the minimum standard, also referred to as contractor-grade. While most people are aware of how well they function during cooking fires, many homeowners are unaware of how poorly they perform during smoldering fires, such as electrical fires.
It is also imperative that Coverfour protect the high-risk areas in the homes, such as attics, garages, laundry rooms, and kitchens. These rooms are prone to severe fires; when they occur, people often lose their homes or worse. When fires originate in these areas, families usually remain unaware until the fire spreads to other rooms. This poses life-threatening dangers, especially if a bedroom is located above a garage. Sometimes, an attic fire can even collapse onto a family. Laundry room fires can emit dangerous smoke and gasses when cleaning products ignite. Heat alarms are designed to safeguard these areas. However, it's crucial to ensure that the heat alarm is connected to an alarm within the living areas to ensure it's easily audible. For those who are hearing impaired or remove hearing aids before bed, it's advisable to use something that flashes a light or shakes the bed.
Coverfour also provides free text alerts in case of a fire, carbon monoxide leak, or water leak. Utilizing a network like this even just once makes it worth every penny.
Networks like this should have been included in the homes before anyone ever set foot inside. If people consider the amount of money they spend on homeowners' insurance over a mortgage, most of them end up spending $20,000 to $30,000. Perhaps investing $20,000 to protect their families would be a wise choice. 
Speaking to the media, Scott Jech from Fire Safety Essentials said, " If we ask any mother or father if they wish they had better protection before their fire incident, we all know they would answer: Yes!" 
Learn more about Coverfour at https://Coverfouralarms.com or contact Scott Jech at fse@firesafetyessentials.com
About the Company:
Coverfour is the protection concept used by Fire Safety Essentials in Prescott Valley, AZ, designed with one ultimate goal. To make sure the entire family gets out alive during a Fire and to protect the home in a similar manner to a commercial building.
Media Contact
Company Name: Fire Safety Essentials
Contact Person: Scott Jech
Email: Send Email
City: Prescott Valley
State: Arizona
Country: United States
Website: ournetworkprotects.com